Kina są znów otwarte !
Po przerwie związanej z pandemią kina były zamknięte od 20 marca do 21 maja 2021. Od 21 maja niemal wszystkie kina studyjne oraz sieć Helios są znów otwarte. Sieci Cinema City oraz Multikino otworzyły swoje kina 28 Maja.
Cinema program "The Tale of Despereaux" in Kraków
No showtimes for movie "The Tale of Despereaux" for today
Choose other date from the calendar above.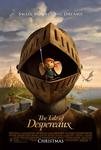 Original title:
The Tale of Despereaux
Runtime:
93 min.
Production:
USA , 2008
Release Date:
27 March 2009
Distribution:
UIP
Directed by:
Sam Fell
,
Gary Ross
,
Robert Stevenhagen
Cast:
Emma Watson
,
Dustin Hoffman
,
Matthew Broderick
,
Sigourney Weaver
,
Robbie Coltrane
Średnio raz na dekadę, pojawia się książka, którą miliony dzieci znają i kochają. W 2003 roku KATE DICAMILLO napisała opowieść o Dzielnym Despero – małej, odważnej myszy, obdarzonej przez matkę naturę wielkimi uszami i nieustraszonym sercem. Despero wiedziony wrodzoną ciekawością zapuszcza się w rewiry niezbadane przez swoich współbraci. Nastawiony do życia aż nazbyt optymistycznie, patrząc z punktu widzenia jego małego, mysiego świata, Despero Tilling robi rzeczy zdawałoby się niemożliwe - zaprzyjaźnia się z odrzuconym przez otocznie szczurem, zakochuje się w samotnej księżniczce, a na koniec ratuje Królestwo Dor z tyranii ciemności i zgryzoty.
Movie trailer: The Tale of Despereaux